Italian version will follow
This month we have been in Dubai, and we enjoied the exclusive and elegant dining experiences at il Borro Tuscan Bistro the beautiful Italian restaurant of Ferragamo Family in Dubai at Jumeirah Al Naseem, Madinat Jumeirah overlooking the Turtle Lagoon.
Il Borro Tuscan Bistro Dubai is the modern interpretation of the Tuscan Cuisine for the Middle East audience, keeping all the sourced ingredients within the biodynamic philosophy of the Italian brand.
Il Borro Tuscan Bistro Dubai has been last year's newest addition to Dubai's bustling food scene, becoming the new hot spot in town for a casual fine dining experience within the Italian circle of restaurants.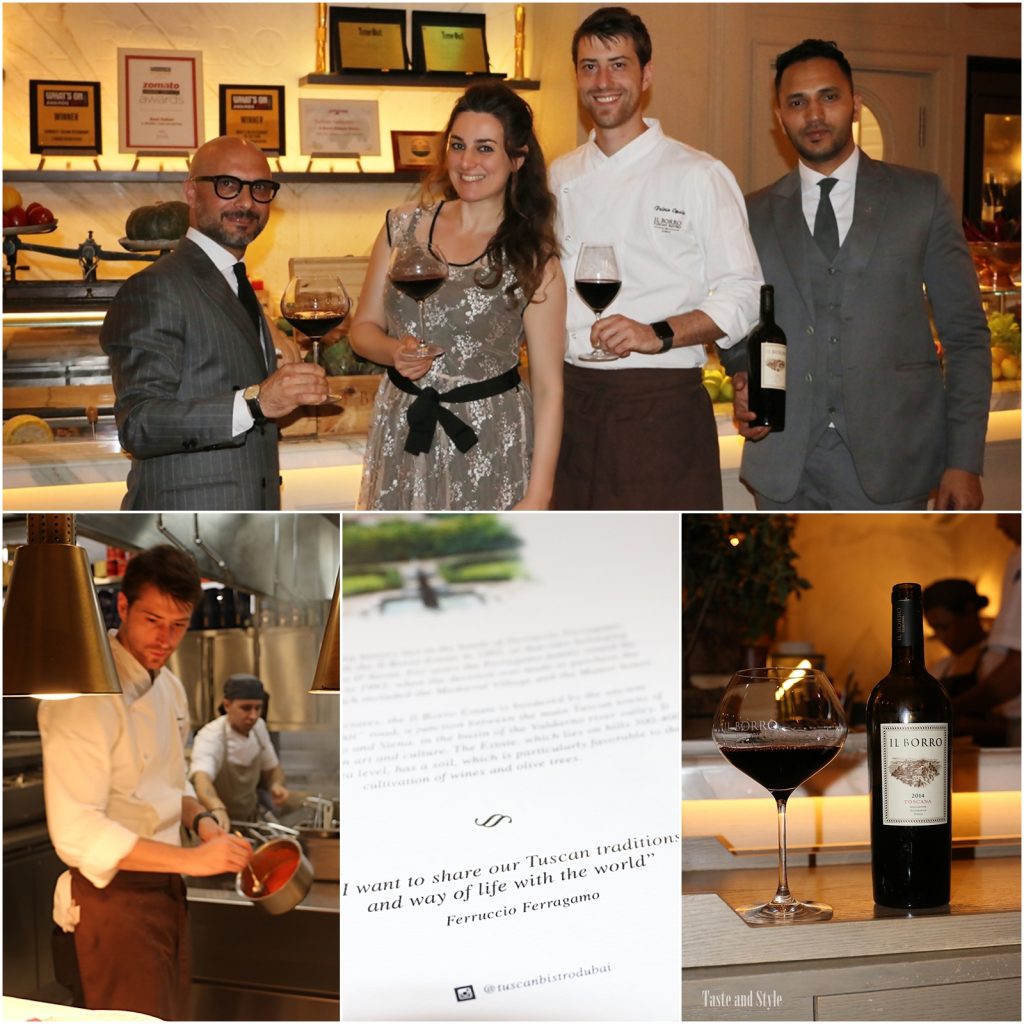 Gourmands of all ages, VIP guests of Dubai have been spoilt with organic and ethically-grown food since the beginning. The results speak for themselves: simple and fresh dishes with the finest Tuscan flavors.
The restaurant has achieved many accolades in a short time. After only 4 months of opening, the Il Gambero Rosso – one of the Italy's most important food and wine magazine and book publisher – has rewarded Il Borro Tuscan Bistro Dubai with its top award, 'Best Italian Restaurant in Dubai'.
Also  Accademia Cucina Italiana also recommended Borro Tuscan Bistro Dubai by awarding him the highest score and recognition possible of a restaurant.
And the greatest and most remarkable achievements were Best Italian Restaurant and Restaurant of the Year at the What's On awards 2017 and at Time Out Dubai 2018.
This solidifies the reputation of the restaurant and its brand, celebrating the successstory of turning simple and seasonal ingredients into highly tasteful and delicious dishes.
We appreciated the work of the whole team in the kitchen captained by the Head Chef Fulvio Opalio a promising and talented young chef  who prepared us traditional Tuscan dishes with creative reinterpretations with great care on fresh italian ingredients that look superb.
His dishes are modern interpretations of Tuscan cuisine, where the use of locally-sourced raw ingredients and a skillful mix of textures reign supreme to offer unusual delights for the palate.
The waterfront venue fuses a vibrant restaurant and bar area to explore the incredible quality, rich history and extensive diversity of Tuscan food, drawing inspiration from a number of intricately woven culinary traditions and showcasing the innate hospitality and passion of the Italian spirit.
Il Borro a name with over a 1000 year history stretching over 700 hectares in the heart of Tuscany is known for its Medieval Village that was fully renovated to a 5 star Relais and Chateaux resort. Owned and operated by the Ferragamo family whom developed the Tuscan Bistrot as an authentic interpretation of Italian cuisine and that resembles a piece of Il Borro in every corner.
In the picture below with Lisa Fontana:
Piero Giglio, General Manager de Il Borro Tuscan Bistro Dubai
Fulvio Opalio, Head Chef de Il Borro Tuscan Bistro Dubai
Bala Salian, Head Sommelier de Il Borro Tuscan Bistro Dubai
Taste and Style ha più volte scritto e raccontato della meravigliosa realtà de Il Borro, la prestigiosa ed esclusiva tenuta della famiglia Ferragamo in Toscana. Nell'antico Borgo Medievale è possibile cenare apprezzando la qualità eccellente del Il Borro Tuscan Bistro diretto dallo chef esecutivo Andrea Campani, situato all'interno delle mura di questo superbo Borgo Antico.
Osteria del Borro, serate indimenticabili affacciate sull'antico borgo medioevale allietati dalla sapiente cucina dell'Executive Chef Andrea Campani
Questo mese siamo stati a Dubai e abbiamo fatto esperienza di un'esclusiva ed elegante esperienza culinaria presso il Borro Tuscan Bistro, il bellissimo ristorante italiano della famiglia Ferragamo al Jumeirah Al Naseem, Madinat Jumeira che si affaccia sulla Laguna delle Tartarughe.
Il Borro Tuscan Bistro Dubai è l'interpretazione moderna della cucina toscana per il pubblico del Medio Oriente, mantenendo tutti gli ingredienti originari all'interno della filosofia biodinamica del marchio italiano.
Il Borro Tuscan Bistro Dubai è stato l'ultima novità dell'anno scorso nella movimentata scena del cibo di Dubai, diventando il nuovo hot spot della città per un'esperienza culinaria davvero unica all'interno della cerchia italiana dei ristoranti.
I buongustai di tutte le età, gli ospiti VIP di Dubai vengono viziati con cibo biologico dove le materie prime vengono selezionate con cura.
I risultati parlano da soli: piatti semplici e freschi con i migliori sapori toscani raccontano il meglio della tradizione italiana.
Il ristorante ha ottenuto molti riconoscimenti in breve tempo. Dopo soli 4 mesi di apertura, Il Gambero Rosso – uno dei più importanti magazine e editori di libri di cucina e vini italiani – ha premiato Il Borro Tuscan Bistro Dubai con il suo premio principale, "Miglior ristorante italiano a Dubai".
Anche l'Accademia Cucina Italiana ha raccomandato Borro Tuscan Bistro Dubai assegnandogli il punteggio più alto e il riconoscimento di  ristorante italiano di elevato standing.
E i risultati più grandi e più notevoli sono stati il ​​Miglior Ristorante e Ristorante dell'Anno ai What's On awards 2017.
Ciò consolida la reputazione del ristorante e del suo marchio, celebrando la successione di trasformare ingredienti semplici e stagionali in piatti deliziosi e accattivanti.
Abbiamo apprezzato il lavoro di tutta la squadra in cucina capitanato dall'Executive Chef Fulvio Opalio giovane e talentuosa promessa della cucina italiana a Dubai e nel mondo.
Lo chef che ci ha preparato piatti della tradizione toscana con reinterpretazioni creative senza tralasciare la cura degli ingredienti di primissima qualità, aspetto imprescindibile per piatti d'eccellenza. 
Il tutto accompagnato dagli ottimi vini della Tenuta Ferragamo in Toscana e un servizio in sala ineccepibile.
I suoi piatti sono interpretazioni moderne della cucina toscana, dove l'uso di materie prime di provenienza locale e un sapiente mix di trame regnano sovrani per offrire delizie inusuali per il palato.
La sede di questo locale di successo fonde un vivace ristorante e area bar conducendo gli ospiti ad esplorare l'incredibile qualità del cibo, la ricca storia e l'ampia varietà della cucina toscana, traendo ispirazione da una serie di tradizioni culinarie intricate e mettendo in mostra l'innata ospitalità e la passione dello spirito italiano.
Un ristorante apprezzato da una clientela sempre più esigente, importante e internazionale.
La presenza a Il Borro Tuscan Bistro di Dubai di Roger Federer, il più grande tennista al mondo ne è la testimonianza.
Il Borro un nome con oltre 1000 anni di storia che si estende per oltre 700 ettari nel cuore della Toscana è noto per il suo Borgo Medievale che è stato completamente rinnovato per un resort a 5 stelle Relais e Chateaux. Di proprietà e gestito dalla famiglia Ferragamo che ha sviluppato il bistrot toscano come un'autentica interpretazione della cucina italiana e che assomiglia ad un pezzo del Borro in ogni angolo.
Taste and Style has already talked and written about Il Borro, the wonderful estate of Ferragamo Family in Tuscany  ITALY and we have related about the fine and excellent quality of Il Borro Tuscan Bistro the worthy Restaurant directed by the Executive chef Andrea Campani.
Osteria del Borro, serate indimenticabili affacciate sull'antico borgo medioevale allietati dalla sapiente cucina dell'Executive Chef Andrea Campani
Le fotografie sono state realizzate da Lisa Fontana per TASTE AND STYLE 
con Canon 70 D
You may also be interested in:
Welcome Autumn ! Il Borro Tuscany Relais and Chateaux estate of Ferragamo Family in Tuscany
Il Borro Estate with Salvatore Ferragamo Tuscany for the harvest 2017
Il Borro Tuscan Bistro per 8 Cene Gourmet ideate dallo Chef Andrea Campani con produttori d'eccellenza
The Harvest at Il Borro, the beautiful Relais and Chateaux Estate of Ferragamo Family in Tuscany
Cocktail bar con terrazza panoramica e pianoforte allo Spa Resort Hotel ADLER THERMAE a Bagno Vignoni in Val d'Orcia
TASTE AND STLE
TASTE YOUR STYLE
TASTE YOUR WAY
AROUND THE WORLD