Arriva l'estate e mai come adesso sentiamo il bisogno di una ricetta sana, leggera e che soddisfi il palato, con gusto e bontà !
Nel 2016 ho iniziato la mia collaborazione con Rimi Wellness e Food Well e realizzare proposte golose e appaganti che facessero anche bene è stato il mio compito principale per questa bellissima manifestazione dedicata allo stile di vita sano, allo sport e al benessere.
Quest'anno pensando proprio a questo bellissimo appuntamento, per chi segue i suggerimenti di TASTE AND STYLE sono davvero felice di presentarvi una proposta davvero carina, estiva e genuina, semplice da preparare, con pochissimi ingredienti e tanta frutta !
Ho realizzato con ingredienti sceltissimi un favoloso … e magnifico Crumble di Biscotti, Formaggio Morbido alla Melagrana, Fragole e Nocciole di Grenoble al Profumo di Menta utilizzando proprio per rimanere in zona Rimini … delle profumatissime, fresche e aromatiche foglie aromatiche di menta dell'Azienda Romagnola SIPO che ho aggiunto ai Gustosi Biscotti Brutti Buoni del Biscottificio di Prato Antonio Mattei.
Ed ecco a voi la ricetta che ho scelto di presentare in modo creativo all'interno di barattolini delle conserve della marmellata.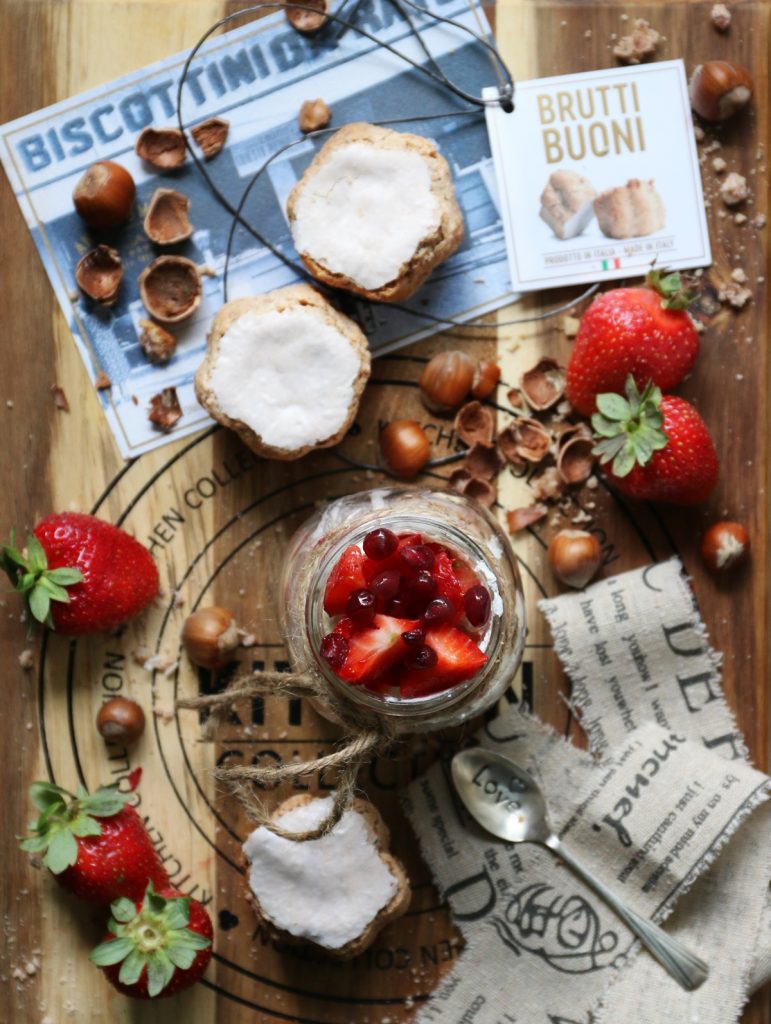 Ingredienti per 4 barattoli:

Una confezione di Formaggio Fresco io ho scelto il Philadelphia
12 foglie di Menta Fresca SIPO
8 Biscotti Brutti Buoni del Pastificio Antonio Mattei di Prato
Arilli di Melagrana Fresca o Succo di Melagrana io ho scelto la qualità di LOME Super Fruit
Frutta secca a piacere Nocciole o Mandorle a seconda dei gusti
20 Fragole circa
1 Limone
1 cucchiaio di zucchero
Preparazione:
Mondare le Fragole e tagliarle a pezzettini, unire il succo di un limone e un cucchiaio di zucchero se lo desiderate.
Mescolare molto bene in modo da miscelare il tutto e lasciare da parte.
Ridurre a Crumble i biscotti aggiungendo le Foglie di Menta ridotte in piccolissimi pezzettini. Mescolare bene. E lasciare da parte.
Frullate gli Arilli di Melagrana e aggiungeteli al Formaggio Morbido in modo da realizzare una crema o se preferite potete tenere gli arilli interi se vi piace sentirne la consistenza e mescolate al formaggio creando un crema morbida. In alternativa è possibile aggiungere direttamente il succo di melagrana per dare gusto e sapore al formaggio senza alterarne le sostanze nutrizionali.
Una volta pronti gli ingredienti realizzati come descritto sopra, potete assemblare a piacere il tutto nelle ciotole partendo dal crumble di biscotti e menta, aggiungendo poi il formaggio al profumo di melagrana e finendo con un topping di fragole e nocciole.
Un connubio di bontà, fatto dall'incontro di profumi, sapori e consistenze in grado di offrire una colazione o una pausa gourmet di piacere e gusto.
Bellissima anche da presentare per un te pomeridiano o un dessert all'insegna del benessere.
Gusto, classe ed eleganza per fare dell'ordinario … lo straordinario. 
Con TASTE AND STYLE !
You may also be interested in:
READY FOR RIMINI WELLNESS? I'M TRAINING ! LISA FONTANA OFFICIAL BLOGGER 2017
Mele al profumo di Spezie. Il mio Dessert sano, leggero e gustoso per Rimini Wellness e Food Well
Sfoglia leggera con uova, bresaola e asparagi. La mia Ricetta per Rimini Wellness e FoodWell
Coppa Chic di Melone e Zenzero con Prosciutto di Parma DOP – Chic Melon Cup with Ham of Parma PDO – My Recipe for RIMINIWELLNESS e FOODWELL
Centrifugato di Mele, Spinaci, Zenzero e Limone per Rimini Wellness