English version follow
Il Master Cooking Class con lo Chef Carlo Cracco si e' tenuto nelle cucine del noto Ristorante Hell's Kitchen in Sardegna.
The Master Cooking Class with the Chef Carlo Cracco has been held in the kitchens of the famous Hell's Kitchen Restaurant in Sardinia.
Grembiule, appunti, quaderno e penna alla mano per la teoria, mestoli, padelle e materie prime di primissima qualita' per la parte pratica, tanta voglia di imparare, apprendere, applicarmi, sperimentare e mettermi in gioco quelle che ho messo io.
Apron, notes, notebook and pen for the theory, pans and raw materials of the highest quality for the practical part, a great desire to learn, apply, experience and get involved.
L'approccio formativo di Carlo Cracco prevede una parte teorica e dimostrativa, prima di passare a quella pratica di esercitazione in cui lui ti segue personalmente dispensando suggerimenti, imbeccate, consigli e svelandoti qualche trucco del mestiere …
Durante la parte teorica lo chef introduce la lezione presentando gli ingredienti con dettagli puntuali sul tipo di prodotto, la reperibilita', le varianti presenti sul mercato, i possibili abbinamenti, le modalita' e i tempi di cottura o di marinatura come in questo caso nella Lezione sul Pesce e di come tutto questo abbia il suo peso nella determinazione del piatto finito, della sua consistenza e aromaticita'.
Perche' tempi e modalita' diverse di preparazione posso dare piatti molto diversificati pur partendo da materie prime identiche. E da qui … anche la scelta del vino in abbinamento puo' cambiare moltissimo.
E poi ancora … ha parlato degli abbinamenti possibili … spaziando da quelli tradizionali a quelli più articolati, particolari e impensabili …
Siamo arrivati a cucinare il pesce con l'aggiunta di Funghi sul piatto finito e a degustare un favolosa zuppa di pescato del giorno con arricchito con un Porcino precedentemente inciso e rosolato in padella.
Sperimenti interessanti e mai scontati ottenuti attraverso prove e assaggi per capirne segreti e strategie culinarie.
Seguono momenti di confronto con libero spazio a domande per poi passare alla parte pratica.
Le fotografie che seguono sono tratte dalla Lezione sul Pesce, come sceglierlo, capirlo, maneggiarlo, pulirlo e sfilettarlo a crudo. Lui stesso fa diverse dimostrazioni pratiche con dovizia di particolari, in cui tutto viene fatto in modo calmo e metodico, lui stesso dice che in cucina non bisogna avere fretta.
E poi arriva la parte più challenge, quella in cui misurarti cercando di replicare il suo lavoro dopo aver fatto tesoro dei suoi insegnamenti, spiegati passo a passo.
Ci si esercita, si prova e riprova e dopo aver capitalizzato i suoi dettami culinari, ti applichi con costanza per riuscire ad eseguire il lavoro in modo sempre più eccellente.
Nella Lezione FISH  – della quale troverete un estratto fotografico con alcuni scatti che sono riuscita a fare tra un appunto e l'altro (quando non mi esercitavo) e altre fotografie a cura di Sarah per il Forte Village – Cracco inizia la sua parte dimostrativa con la pulitura del pesce, spiegata passo a passo. Ed e' proprio qui, in questa fase che se hai dubbi o domande devi chiedere in quanto poi … tocca a te … cimentarti seguendo le tecniche spiegate e rispettando importanti regole di base che rispondono a un procedimento coerente con le migliori tecniche di cucina … mentre lui e' li di fianco a te pronto a correggerti e a spiegarti nuovamente … a darti qualche dritta e a svelarti qualche trucco consolidato di alta cucina … magari con qualche sgridata con il sorriso … per fortuna mai severa come quella che siamo abituati a vedere nella sua figura di giudice di Masterchef !
Un bel privilegio direi !  😉
The approach of Carlo Cracco provides a training course that starts with a theoretical and demonstrative lesson, before moving on to the practical part of the exercise in which he follows you personally dispensing tips, cues, recommendations about his work … very useful!
In the theoretical part there is also the presentation of the ingredients with details on the type of product, the variants on the market, the possible combinations, cooking times or pickling as here in this Lesson about Fish and how these affect the finished dish, its texture and its aromaticity. And from there all the consequences that follow 'cause the times and methods of different preparation can give very different dishes although starting from the same raw materials. And … the choice of wine paired can be very different.
In Lesson FISH of which you can find some pics below by Sarah for Forte Village – Carlo Cracco began his demonstration with the cleaning of the fish, explained step by step and right here, at this stage you can make questions because then … it's up to you … repeating so as more similar to the explanation he gave you … following some important dictates he gave you … and then ha stay beside you looking your work ready to correct you and explain again … maybe with some scolding … but fortunately never so severe as that which we usually see in his role as judge of Masterchef!
A great privilege, I would say ! 😉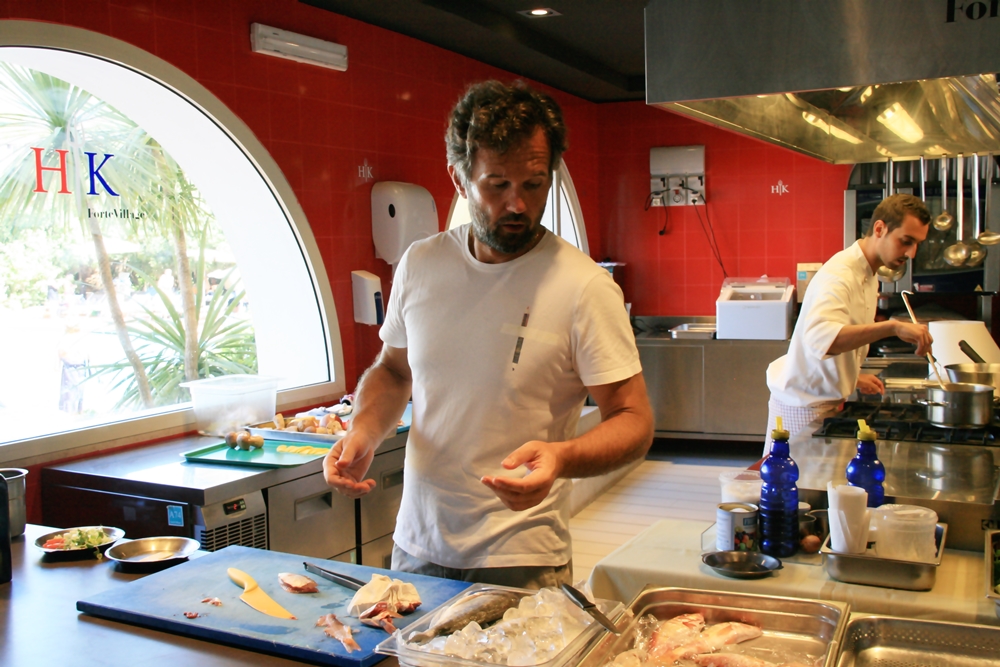 Dopo aver sfilettato il pesce con cura e grande attenzione … altra dimostrazione pratica richiesta allo studente … ecco la marinatura fatta con aromi, erbe, olio extravergine di oliva e frutta capaci di conferire al pesce un'interessante aromaticita' e freschezza.
Carlo Cracco mi spiegava che la marinatura e' molto importante nella determinazione della buona riuscita di un piatto e comprende un'ampia varieta' di procedimenti a seconda degli alimenti che vogliamo trattare e del risultato che ne vogliamo ottenere. Potete trovare spiegazioni esaustive nelle 11 Lezioni spiegate nel suo libro "Dire, Fare e Brasare".
After having filleted fish with care and attention … another demonstration request to the students … here is the marinade made with herbs, olive oil and fruit managed to give the fish an interesting aromaticity and freshness.
Carlo Cracco explained to me that the marinade is very important determining the success of a dish and includes a wide variety of processes depending on the foods that we want to treat and the result that we want to achieve. You can find exhaustive explanations in the 11 lessons explained in his book "Say, Do and Braise".
Per la cottura abbiamo sperimentato e seguito tecniche differenti tutte spiegate con dovizia di particolari dal grande Chef.
For cooking we experienced and followed different techniques all explained and detailed by the great Chef.
La Lezione FISH non poteva che concludersi con il mitico Fumetto di Pesce di Carlo Cracco … che e' possibile trovare nella lezione 51 del suo primo Libro "Se vuoi fare il figo usa lo scalogno" … anche se indubbiamente … vederglielo preparare personalmente mentre ti spiega come fare … e' tutta un'altra cosa !
The FISH lesson closed with the legendary Carlo Cracco's Fish Soup … lesson 51 of his first book "If you want to be cool uses shallots" … even if … looking him preparing it personally it's absolutely different !
Tantissime sono le cose che potrei raccontarvi ancora … mi limito a concludere questo post con una frase di Carlo Cracco che mi piace molto, quella sulla copertina del suo libro piu' recente e che rappresenta anche il messaggio che lui vuole trasmettere nei suoi Cooking Master Class: 
"La Cucina e' fatta anche di magia. Quella che si crea usando le tecniche alla perfezione e abbinandole agli ingredienti piu' appropriati." 
And last but not least … ci tengo ad esprimere un ringraziamento sincero a San Carlo, in particolare alla Dott.ssa Susanna Vitaloni Vice Presidente di San Carlo e allo Chef Carlo Cracco per questa grande opportunita' formativa.