Osteria della Bullona is rightly one of the most interesting Place of Taste in the area of Via Pier della Francesca in Milan,
considered a reference point for all those who want to taste a good glass of wine with selected labels and niche producers,
after an evening at the theater, at cinema or between friends.
But here you can also taste excellent local cuisine,
with great attention to the Milanese cuisine to which ample space is dedicated,
without forgetting a few points to typical ingredients of other regions,
all in an elegant and refined environment,
which puts the customer in the center, making him feel very important.
Nella foto di seguito con il Patron del Locale Daniele Carettoni lo Chef Andrea Iacolino.
Continua il fermento della movida milanese in Via Pier della Francesca a Milano, punto di riferimento indiscusso per chi desidera locali molto gettonati e di grande appeal.
E proprio nella zona dove sorgeva l'ex stazione delle Ferrovie Nord di Milano Bullona, si susseguono nuove gestioni con interessanti indirizzi che spaziano tra ristoranti e luoghi dove passare qualche ora davanti a un aperitivo moderno e a passo con i tempi.
La vecchia Stazione ferroviaria della Bullona in via Piero della Francesca, un tempo pensata per servire la zona di Corso Sempione e della Fiera, è stata dismessa nel 2003 ed è ora un locale nightlife molto gettonato.
Ma recandosi nell'attigua "Osteria della Bullona" si può ancora partire per un viaggio. In questo discreto ed elegante ristorante di 50 coperti, tutto giocato sui toni caldi del bianco e del grigio, il viaggio proposto è quello tra i sapori della migliore tradizione culinaria regionale italiana sapientemente mescolati tra loro dal giovane e talentuoso chef, Andrea Iacolino che ci ha fatto entrare nelle sue cucine svelandoci i segreti del suo successo.
Osteria della Bullona si inserisce a pieno titolo tra la schiera dei locali più interessanti della zona, considerata un punto di riferimento per tutti coloro abbiano voglia di sorseggiare un buon calice di vino con etichette selezionate e produttori di nicchia, dopo una serata a teatro, al cinema o tra amici.
Ma qui è possibile degustare anche un'ottima cucina di territorio, con grande attenzione per la cucina meneghina a cui si dedica ampio spazio, senza dimenticare qualche puntatina a ingredienti tipici di altre regioni, il tutto in un ambiente elegante e raffinato, che mette cliente a proprio agio.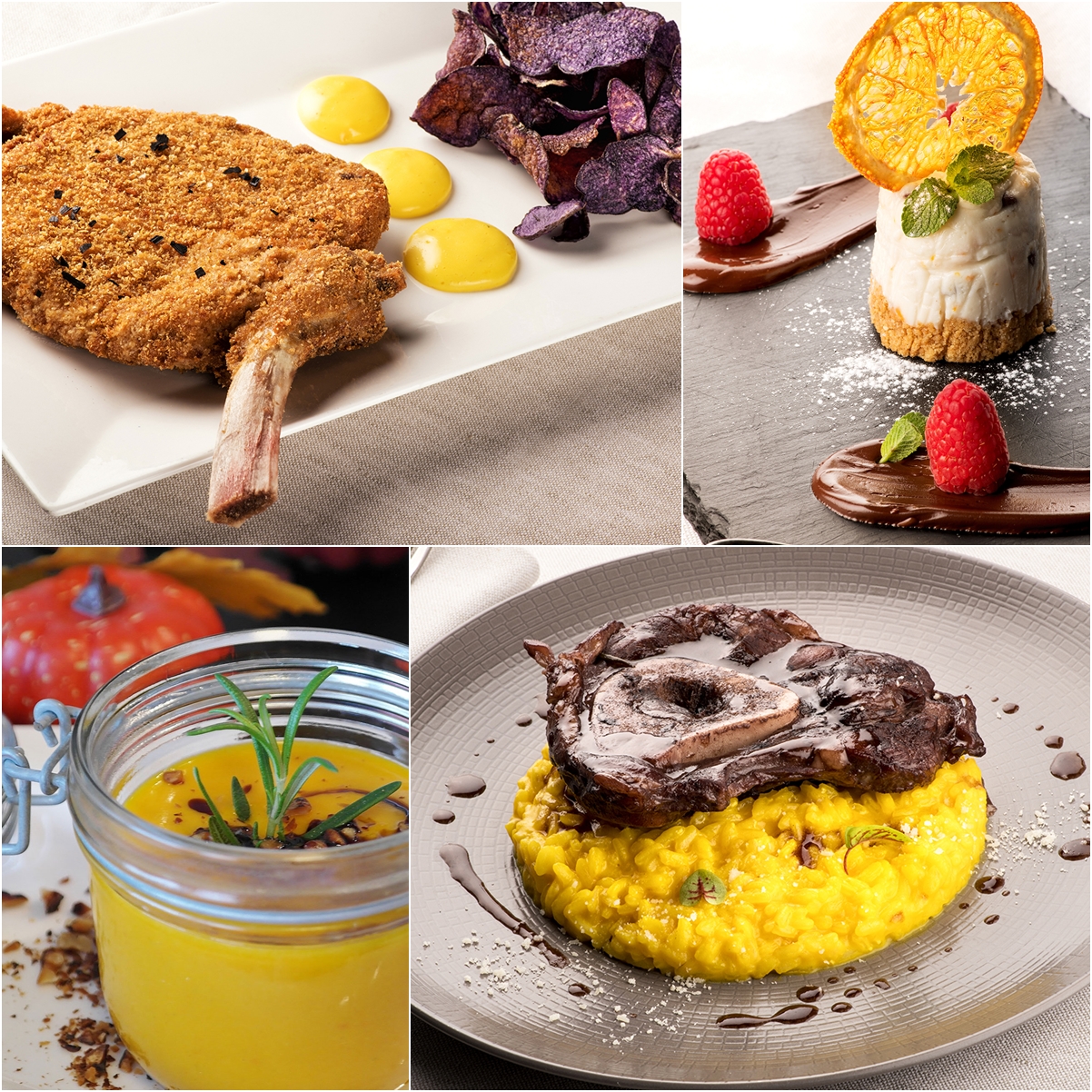 Ideale per pranzi di lavoro, cena tra amici o serate romantiche, quello che non manca è il concetto di sobrietà ed eleganza che si estrinseca in qualunque momento della giornata e una cucina curata nei minimi dettagli, dove ogni piatto è pensato dal giovane e talentuoso chef che mette sempre una forte connotazione tradizionale, ma senza perdere di vista qualche rivisitazione più attuale e in chiave moderna, con prodotti stagionali e materie prima d'eccellenza.
La scelta del nome "osteria" deriva dalla voglia di ricordare l'atmosfera dei vecchi locali di Milano, facendo rivivere il concetto più classico dell'osteria, ma rivisitata in chiave moderna.
Sfogliando la carta fanno capolino un ventaglio di antipasti che lasciano l'imbarazzo della scelta con Capesante scottate con granella di nocciola, maionese al limone ed asparagi al vapore, Frittura di alici servita con burrata pugliese su salsa di guacamole e datterini marinati all'origano e basilico, Carpaccio di salmone marinato 48 h, su letto di valeriana, avocado, pinoli tostati e gamberetti rosa cotti nella propria bisque, Tris di tartare: salmone e zenzero, scampo lime e pepe nero, tonno e guacamole o più semplicemente il ghiotto Antipasto della Bullona per due persone (tagliere di formaggi aromatizzati ed affettati misti).
Tra i primi, Spaghetti "Granoro" con crema di barbabietola saporita alla menta, mantecati al gorgonzola ai frutti di bosco, e crumble di pistacchio, il classico Risotto alla Milanese con pistilli di zafferano, Tonnarelli "Granoro" con alici, finocchietto, pinoli tostati, zafferano e briciole di pane nero.
Ma il vero motivo di vanto per il locale sono i secondi piatti, con il ricco repertorio di carne proposta alla griglia.
Filetto di manzo, costolette di maiale, salsiccia e altre ghiottonerie cucinate in modo eccellente vengono accompagnate da verdure di stagione e presentate su ricchi vassoi di portata.
Mentre per i vini mettetevi nelle mani del Patron del Locale Daniele Carettoni che con il suo Titolo di Sommelier seleziona le migliori etichette e cantine da portare in tavola.
In alternativa Costoletta dell'Osteria della Bullona con chips di patate viola e maionese fatta in casa oppure Ricciola in crosta di patate novelle su vellutata di zucchine ed asparagi bianchi profumati al limone.
Ottimi anche i dolci con Tiramisù dell'Osteria della Bullona e Tortino di mousse di ricotta e cioccolato fondente con biscotto fragrante salato con i quali chiudere un'esperienza enogastronomica che vorrete ripetere.
Per informazioni e prenotazioni:
OSTERIA DELLA BULLONA
Via Piero della Francesca, 68
20154 Milano
Telefono: 02 349 301 87
contatti@osteriadellabullona.com
www.osteriadellabullona.com